My friend visited me for dinner yesterday. I made her a lamb chops with lemon risotto. I bought a rack of lamb in advance for $20 from Costco for eight lollipops.
Here is the original
recipe
Ingredients
2 large garlic cloves, crushed
4 sprigs of fresh rosemary, leaves removed
4 sprigs of fresh thyme, leaves removed
6 lamb chops (3/4" thick)
Directions

Cut rack in between bones to get individual chops.
Try to make each chop equal in thickness.
(
In other recipes, you can also sear the entire rack and finish off in oven, then cut before serving.)
In food processor, add the garlic, rosemary, thyme, and salt.
I like to season red meat with quite a bit of salt and pepper before I cook it. This time around I went really easy on the salt because I wanted to add Fleur de Sel as a finishing salt at the end.
Tip: You can use this marinade for chicken and grilled bread, too.
Pulse until combined. Pour in olive oil and pulse into a paste.
I used my Magic Bullet since I only have a large food processor. It's great to make small amounts of wet or dry marinades, dressings, and even pesto. I also use it for smoothies.
Rub the paste on both sides of the lamb chops and let them marinate for at least 1 hour in the refrigerator.
Using a flexible spatula or silicone basting brush makes it easy. You can make even further in advance. The longer it sits, the more flavor it'll absorb.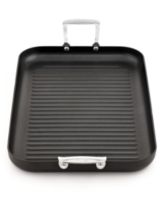 Heat a grill pan over medium-high heat until almost smoking, add the chops and sear for about 2 minutes. Flip the chops over and cook for another 3 minutes for medium-rare.
Tip: For smaller or thinner chops, place away from center of burner underneath.
Sprinkle Fleur de Sel or coarse sea salt to finish.
You'll really taste the salt and it'll enhance the flavor of the meat.
Allow meat to rest prior to serving.
This will ensure it retains all the juices.
Tip: If you don't want the meat to cool down too much when eating, you can warm serving plates in the oven at the lowest temp setting.
Enjoy!